Booklets and books are a more detailed means of business promotions. More often used in business shows, meets and events, they provide the target audience with an in-depth view of your business. However, it matters a lot to have a clear idea about the size and binding of your booklet or book, as both carry the image of your brand. And you would certainly not want to dilute your image, would you?
Booklet printing or book printing is used for various means by companies e.g. as catalogs, brochures, magazines, company reports or presentation documents. And according to the purpose of your booklet or book, the size and binding will vary accordingly.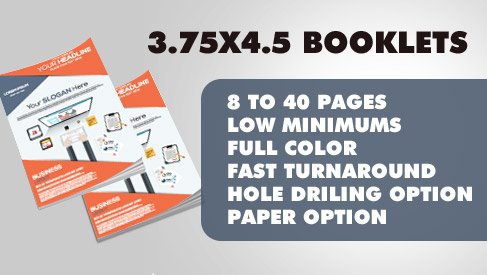 Based on their use and purpose, booklet and book binding has 3 different types:
Saddle stitch:

One of the most economical stitch types, saddle stitch involves binding the booklet or book with 2 staples in the middle post folding and creasing. This type of binding is perfect for those booklets that have 8 to 60 pages. Saddle stitch booklets and books are great for product manuals and even event brochures.
Many booklet printing services provide low-cost high-quality booklets and books that help you save more without compromising even a bit on their quality. If you do not need staples, but just folded, then they can do that as well.

Perfect Bound:

Perfect for booklets that have about 60 to 80 pages, the process involves sticking a

wrap-around cover to the rear edge of the pages with the help of a strong adhesive. The adhesive's strength along with its non-brittle nature holds the pages in place without making the bind appear cheap. The spine can be used for printing as well, which makes perfect bound booklets "perfect" for display e.g. cookbooks, and high-end product catalogs.
Many online printing services provide full-color UV coating on their cover pages and even allow you to upload your intended artwork to be present on the cover. This further makes the booklet appear professional and brand-based.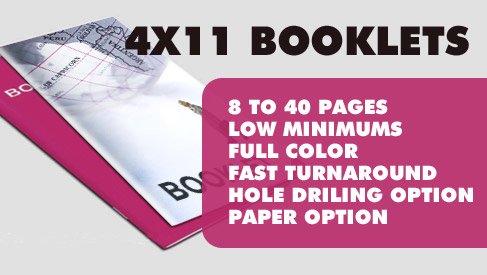 Coil Bound:

As the name suggests, a coil-bound booklet or a spiral bound booklet has holes from top to bottom on the rear end of the pages including the cover through which runs a wire coil. This coil holds all the pages in place. It further allows the coil-bound booklets and books to lie completely flat when open. This makes them perfect for workbooks, reference books, and training manuals. Pages may vary from 4 to 300-350 pages.
Various services of online printing California provide multiple-size coil bound booklets and books which lets you choose one which is better suited to your purpose. They even have the option of letting the cover be blank or having a front cover along with color options.
In order to decide what will be best for your business promotion, you need to have a mock-up of the number of pages you require. This will enable you to find out the suitable booklet or book size along with the type of binding necessary.
For effective booklet printing or book printing, it is necessary to have the perfect binding. This not only uplifts the quality of the booklets or books but also makes for a useful and effective investment. Keeping the 3 above-points in mind will give you a clear idea about which binding to opt for.