SAP Business Objects BI is a business intelligence (BI) platform developed for reporting and analytics to facilitate business users. It consists of numerous reporting applications that enable users to find out data, perform analysis to gain insights, and generate reports that visualize the insights. Business Objects Training is planned to make reporting and analysis simple for business users so they can produce reports and execute operations like predictive analytics without requiring any input from data analysts.
SAP Business Objects BI applications present drag-and-drop features and enable users to discover and analyze data from a broad range of sources. It is a front-end BI tool, so the data is not saved at the application level, but is incorporated from the different back-end sources.
SAP Business Objects BI Applications
SAP BO includes several reporting and analysis applications that all have their own features, purpose, and functions. These applications comprise:
Web Intelligence (Webi) – It is a web browser tool that lets the business users carry out analysis, generate formatted reports, and share the reports on SAP Business Objects or convert them into PDF or Excel formats.
Crystal Reports – It is a data analytics and reporting tool designed for individual users or small and medium-sized businesses (SMBs). Users can build intuitive reports from different data sources and transport them to various formats. Here, you can access the reports online or offline, from applications, web portals, or mobile devices.
SAP Business Objects Dashboards – It is a data visualization tool that helps the users to form customized dashboards from the existing reports. These dashboards can consist of interactive charts, gauges, metrics, and widgets.
Query as a Web Service (QaaWS) – This tool enables users to develop and publish web services that can be used in Crystal Reports and SAP Business Objects Dashboards, and also in other software applications.
SAP Business Objects Explorer – It is a self-service data exploration tool that allows users to explore through massive data volumes from various sources and then produce data visualizations that can be shared across companies.
SAP Lumira – It is a self-service data discovery and visualization tool that assists users in finding and analyzing applicable business data and generates custom interactive dashboards and analytics applications.
SAP Business Objects BI can also combine specific functions with SAP HANA.
SAP Business Objects Universe
The essence of SAP BO is the Universe, a film of metadata that combines the back-end data with the front-end application film.
A universe lets users act together with data without knowing that from which database it comes from, its database structure, or where the data is stored. The universe does not hold any data itself; but, it is a metadata layer that encloses information about the objects existing in the data source that is used to produce SQL queries that recover the actual data.

Key Benefits of Business Objects BI
Although SAP Business Objects is now than a decade old, it still maintains its significance even today. It is an amazing tool that provides business intelligence and reporting with the help of feasible applications. BO allows SAP to produce a complete Extract-Transform-Load process together with other data services.
Now, let's find out why a business organization should choose SAP Objects BI.
Provides the Best Analytics Reporting Tool
SAP Business Objects has a Web Intelligence function that makes it one of the top queries and the leading analytics reporting tool. What does it mean to be a business organization? It means that they can handle numerous lines in a remarkable report, and also they can create documents using different universes and data sources.
You can even generate exceedingly customized reports, advanced analytics documents, and hybrid dashboards with more than 150 available features.
Highly Scalable Architecture
SAP Business Objects presents the facility of flexible architecture, enabling SAP experts to monitor users easily with the help of server clustering and cloning.
Connection With SAP HANA
It also allows users to take benefit from its in-memory database or SAP HANA. You can use big data to forecast the future quickly.
Powerful Security and System Administration
SAP BO allows you to supervise security in the Central Management Console (CMC) that protects the BI data solutions more broadly. The CMC also preserves and manages the servers.
Some Other Advanced Features
Besides the above benefits, SAP Business Objects also provides some other advanced functions.
It presents native support of SAP HANA to the applications
It provides enhanced data connection with the support of more than 140 data sources and integration with MongoDB, NoSQL DBMS, and so on
Executing the 64-bit technology for growing the progress of advanced hardware and memory
Provides native support to SAP Business Warehouse
Comprehensive BI Suite with Software Development Kit (SDK) and mobile BI software with an objective to build customized mobile apps and their deployment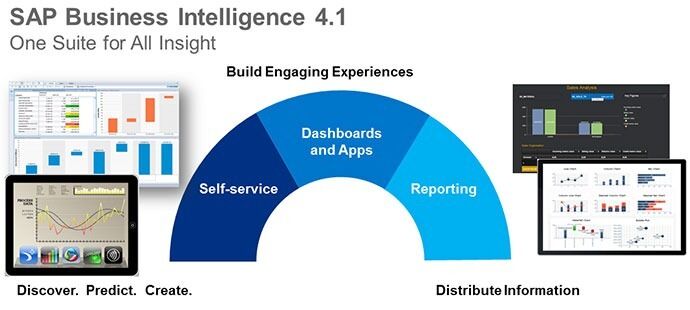 Role of Total Cost of Ownership (TCO) in SAP Business Objectives
It provides cloud-based BI deployment choices and complete support for SAP BI clients on a single platform
It also offers real-time fixed monitoring with equivalent patching
An inventive auditing tool that makes you aware of how people use the product
Necessary Elements of SAP Business Objects BI
The key elements of SAP Business Objects BI are as follows-
Reporting
Data Discovery and Visualization
Application and Dashboard Creation
Deployment and Administration
It must be remembered that various SAP BO applications serve their part in supporting these elements. For example, you can use Crystal Records and Web Intelligence for reporting functionalities. Likewise, if you desire to build SAP applications and dashboards, you require SAP Business Object Design Studio and SAP Dashboards.
Major Operating Systems That Support SAP Business Objects
The SAP Business Objects BI suite can easily be deployed on all main operating systems like Linux, Windows, and UNIX platforms. You also required attaining a suitable license for SAP BO BI like SAP Lumira, Mobile BI, SAP Lumira Server, and license of SAP HANA to run the Lumira server.
Final Note
SAP Business Objects BI tools provide chief and easy to use applications that manage business reporting and analytics needs. It also helps in the building of dynamic applications and dashboards as well as data visualization advantages. If you want to learn more about improving your productivity and data-driven decision-making process, you can join SAP Business Objects Training today!