Hello ladies! Are you tired of constantly using a volumizing wash and care system to get thick and lustrous hair? If yes, brace yourself! We are going to reveal multiple fun facts on how to acquire long and voluminous hair with tape in hair extensions. Are you ready? Let's get started.
Tape In Hair Extension has gained its popularity as a beauty asset since a decade ago from now. With the advancement in fashion, various types of hair extensions are invented. Yet, the tape in hair extension is still preferred by many.
Why Tape in hair extensions
Cost Effective- Tape in hair extension is a semi permanent hair extension method that is reasonably priced because of its simple and easy application.
It is flexible and invisible in nature- The tape in hair extensions lay flat on your head with perfect blending to that of your natural hair. The interesting fact is, the tape in hair extensions go unnoticed even if your hair is wet. You can exhibit your flawless hair with tape in hair extensions on a hot sunny day or on a wet rainy day because it seamlessly blends in with your natural hair whether it is dry or wet.
Light weight- You won't believe it but tape in hair extension is lighter in weight as compared to clip in hair extensions. It is now available in single side tape with less hair concentrated on your scalp. This makes tape in hair extensions less bulky. You should give tape in hair extensions an upper hand if you are seeking for hair extensions that are comfortable and breathable.
Resistance- As temperature gets hotter, your summer activities such as swimming, surfing and diving might be in your to do list. Don't worry! You can still look good with a tape in hair extensions on your head since it stays intact even if it needs to be exposed to water, sweat and moisture. Isn't that super cool?
Reusable- The most exciting part of having tape in hair extension is that it can be reused. You can re-tape any weft of tape in hair extensions for a maximum of three times in a year. When cared properly, they will continue to give a natural shine for a longer period of time.
How to apply tape in hair extensions
If you have decided to go for tape in hair extensions, you should be aware of how to apply or attach it to your hair. Well, we can help you with few tips.
Before dealing with the tape in hair extensions, it is necessary to wash your normal hair for perfect blending. After that, form a horizontal part across your scalp using your finger or a comb at around 1 inch away from the nape of your neck. This is where you should attach the tape so that the upper hair could help hide the tapes.
Separate the remaining hair that falls under the horizontal sections into thin strands and remove the strips that cover the adhesive glue and press it firmly with your natural hair. Following that step the next thing you should do is stick the top strands of your natural hair with the top section of hair extensions and press them for a few seconds so that the glue firmly adheres to the natural hair.
If incase the hair extensions do not get attached, then you should reduce the volume of hair strands taken while sticking it to the hair extensions.
Keep on following the same steps until all the extensions have been attached to your natural hair. The number of wefts used depends on the size of your scalp.
Basic guideline for taking care of tape in hair extensions
After getting a tape in hair extensions, you should take good care of it because you cannot let all the efforts you have put in its installment go in vain.
Spare around 10 to 15 minutes of your time everyday for a smooth hairdo.

Regularly brush your hair to prevent tangling and frizzy hair (around 2 times in a day). Be mindful enough to

use a wide

tooth comb and start combing your hair from scalp to ends. Remember to be gentle while brushing your hair.

Once you get a tape in hair extension, you should never hit the pillow carelessly. Set a reminder on your phone to remind yourself to either braid your hair or tie it in a loose

ponytail

before you head to bed.

Use heat protectant spray before styling your hair in order to prevent your hair from damages caused.

Always stick to the shampoos and conditioners recommended by your hair stylist. Avoid using hydrating shampoos and conditioners.
5 easy and quick hairstyle you can try with tape in hair extensions
1. High Ponytail- Style your hair into a high ponytail so that the tapes lay flat against your head. Secure it high using an elastic band. Take thin strands of hair from your ponytail and wrap it around the elastic to disguise it. Tips: Backcomb base of your ponytail to add extra volume and height
2. Fishtail braid- Basically you can make a fishtail braid by first making a low ponytail and then parting the hair into two sections. Next, take small strands of hair from each side alternatively over and in the middle. After you are done with the braid, loosen it with the tips of your finger for added volume. You can take this hairstyle and get yourself a fresh beach look.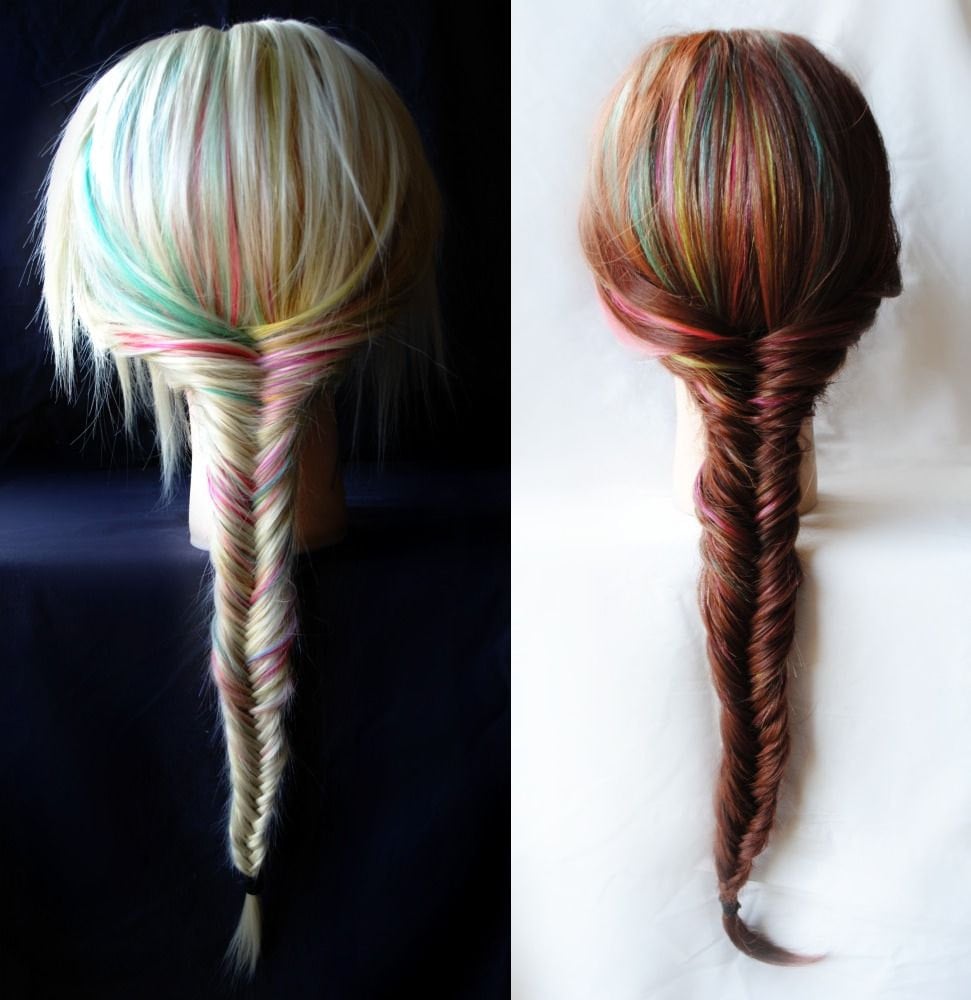 3. Side Swept- Part your hair just above the arch of your brow to get a side part. While doing that make sure that the tapes are not visible. Tuck your hair on the other side behind your ear and get an elegant look in a fraction of seconds.
4. Braided updo- Get a normal three strand braid. Then roll and twist the braid to form a bun. Keep the bun intact by using bobby pins wherever necessary. That's it! You are all set for a casual coffee date.
5. Half up Bun- In line with your temple tie your hair into a loose half bun. Loosen the top sections with your fingers to cover any visible tapes. Pull out some strands of hair to frame your face. Yow! You should be fine with that hairstyle if you are going out shopping and to watch movies.
Best tape in hair extensions you should eye on
1. Babe tape in extension- it is easy to apply and remove. The babe tape in hair extensions comes in thirty different colors. The adhesives are long lasting which last for around 6 months.
2. Hotheads hair extensions- It comes in different sets such as "originals", "fantasy", "ultimate" and "micro strands" which eventually gives unique styles.
3. Donna bella tape in extensions- If maintained properly, this same tape in extensions can be reapplied for three times. The adhesives used are safe and highly effective.
4. Glam seamless tape in hair extensions- The tapes used are all hypoallergenic which won't give any negative effects to your natural hair.
5. Perfect lock tape in hair extensions- The best part of this hair is you get a liberty to choose hair extensions that closely resemble your natural hair by customizing texture, colors, length and weft type.
Other well known tape in hair extension brands are:
Easihair pro
Cinderella
Balmain hair extensions
Hair dreams
Klix
She by so capelli
Great lengths
After revelation of different brands, it is your responsibility to explore, choose and settle for the best.
How to remove tape in hair extensions
When the tape in hair extension reaches its expiry date, it needs to be removed. Removing a tape in hair extension is easy and simple. The only tool used is a rapid release remover. No heavy tools or chemicals required. Since the rapid release remover is oil based let the remover sit into the tape for a few minutes. To your amazement, your natural hair will be released from the tape without any hair damages. Apply the product until all the tapes are removed. After the removal of tapes, you would notice your hair becoming oily and sticky. There is nothing to worry about. It is due to the glue residues from the tape and the oil from the hair extension remover. Wash your hair thorough with shampoo and conditioner to remove oil and stickiness.
With the given tips you can easily remove your tape in hair extensions at home and there is no need to visit salon and beauty parlors.
Well! Without further delay, quickly press your fashionista button and explore the world with spectacular tape in hair extensions. Who cares even if it rains or shines, you just need to look in your best. For that best look, your ideal choice should be tape in hair extensions. Grab one and let yourself be known as that chic who never fails to amaze others.