This piece is ideal for those who are in the final year of their hotel management course in Kolkata and going to enter the hotel industry soon. To secure a good job in hotel industry, you need to fare well in the job interview. There are various types of job in the hotel industry and you need to impress the interviewer with your C.V. and attitude. Your success mantra for the job interview is your ability to answer the interview questions with utmost confidence. Your confidence level will also be judged at the interview. The following are some tips that will help you in the preparation of your upcoming job interview.
Maintaining a Big Smile on Your Face
You'll learn the fact that hotel industry is all about customer service while pursuing your studies from any of the top hotel management colleges in Kolkata. A successful professional needs to maintain a big smile on the face because this is a primary requirement for maintaining exemplary customer satisfaction. Landing up with a good job may be tough for you if you cannot smile naturally. That's why you must show your friendly nature to the recruiter and maintain all throughout a genuine smile on your face.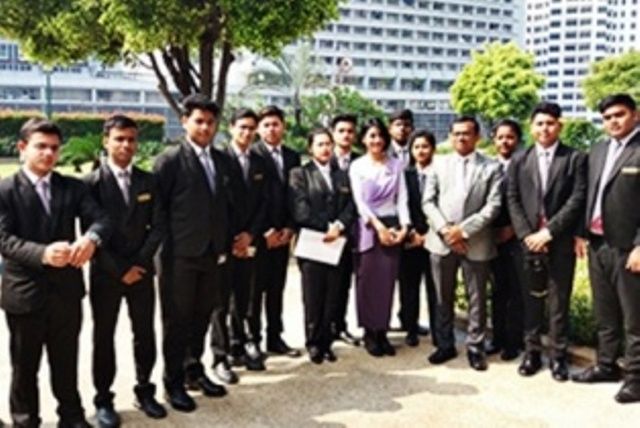 Do Your Research
The impression that all hotels are just the same should never be in your mind. There will be difference in the behavior of the employees of a resort in a popular tourist destination and behavior of employees of a five-star hotel in a metropolitan city. You must do a research on various information on the hotel for which you are going to sit for the job interview. You may get the information about the hotel on online. If you're prepared with relevant information about the hotel, it may come to your favor in the interview.
Get familiar With Every Side of Hotel Business
Sometimes, it may happen that an employee has to handle more than one job responsibility. Often employees are expected to act as substitutes for other employees or assist in other departments. Therefore, every aspect of business should your area of interest if you want a successful career in hotel management. You'll be able to learn about the activities of the various departments of a hotel while pursuing hotel management courses in Kolkata.
Have a Positive Outlook on Life
If you're energetic and have a positive outlook on life is more likely to be hired by an employer. Great attitude and solid work ethic are the qualities that are looked for in a candidate by the employer. Therefore, to succeed in the interview, you must prove before the employers that you have qualities. A hotel management school cannot teach you these things. You have to acquire these qualities on your own.
Prepare Questions For Your Interviewers
During the interview, often interviewers will ask you whether you have any questions for them. Use this opportunity because this will prove your passion for the job. Questions like what are the growth opportunities in the particular job and the country, what are the important priorities for the job candidate etc. can be your questions. It is ideal not to ask anything about the hotel present on the internet which will prove that you haven't done any research.
Highlight Your Experience
Anyone who can jump into action immediately after joining a job is the favorite of any employer. One with previous job experience has the chance to learn the job more quickly than one with no job experience. It is preferable to mention job experience during your interview.
Perfect Your Communication Skills
Communication skill is an important asset of a candidate. You should pay attention to learning communication skill if you want to be successful during job interview. In a hotel job, you often have to communicate with guests at the hotel and other staff members. Your interviewer will think that you won't be able to properly communicate in the job if you cannot do it in the interview. During the interview, speak slowly and prominently so interviewer can hear you properly.