Black is classic, sharp, and versatile, making an all-black style a great way to make a statement. Monochromatic outfits in black look sleek and modern, they help define your figure and are an effective way to catch people's attention.
The thing is monochromatic outfits can be more difficult to pull off than appears at first glance. To help you out, here are the essential styling tips to elevate an all-black ensemble and make it truly work for you.
Make Sure Your Blacks Match
When putting together an all-black outfit it is important to keep in mind that all blacks aren't the same and they don't always match. Black can be pure but can also have various undertones, it cane either be glossy or flat. These differences are subtle but important and are usually more noticeable under true daylight.
Mix the Textures
There is no questioning the beauty of color black, but monochromatic outfits tend to run the risk of looking flat if you go too similar with your fabrics. This is why it pays to mix textures and different fabrics within your black outfits. Wearing multiple textures makes the optics of your outfit more flattering and adds depth and dimension to your look so it's not one-dimensional or boring.
For instance, there's nothing like adding a leather accent piece into your all-black ensemble as a subtle way to make it more edgy and interesting. Velvet blazer in its classical elegance adds sophistication to any outfit – casual wear and business attire alike.
Focus on the Fit
Black may be slimming, and an all-black outfit looks sleek but only if you incorporate some tighter-fitting pieces. Whatever your size or body shape, clothing that follows your contours will allow you to forget about your shortcomings and will always be more flattering than oversized clothes.
Since black is slimming because of the optical effect it has, it is a good idea to take advantage of this and to choose clothes that skim your body without being too tight or too big.
Strive for Balance
A perfect all-black outfit is all about creating balance. The human eye is attracted to balance and symmetry which is why it is the key to creating perfect black outfits.
One of the most common ways to balance an outfit is by using proportions in the clothing items. When opting to wear a voluminous piece, like a full skirt, you can avoid that unkempt look by balance it out with a fitted top. Alternatively, you can tuck your black shirt in to create a fitted waist to offset the volume.
Quality Matters
You should always demand quality when it comes to choosing your black clothes and buy the best that you can afford. Black is not good at hiding cheaper fabrics and flaws in construction. Also, lower quality black clothes are likely to fade with a couple of washes.
Add Patterns
Monochrome does not mean that your outfit has to be made up of only solid pieces; you can incorporate patterns and prints to add visual interest and to break up the solid blocks of black. Because patterns are immediately eye-catching, patterned pieces make for a great statement piece and add that extra bit of style to your outfit.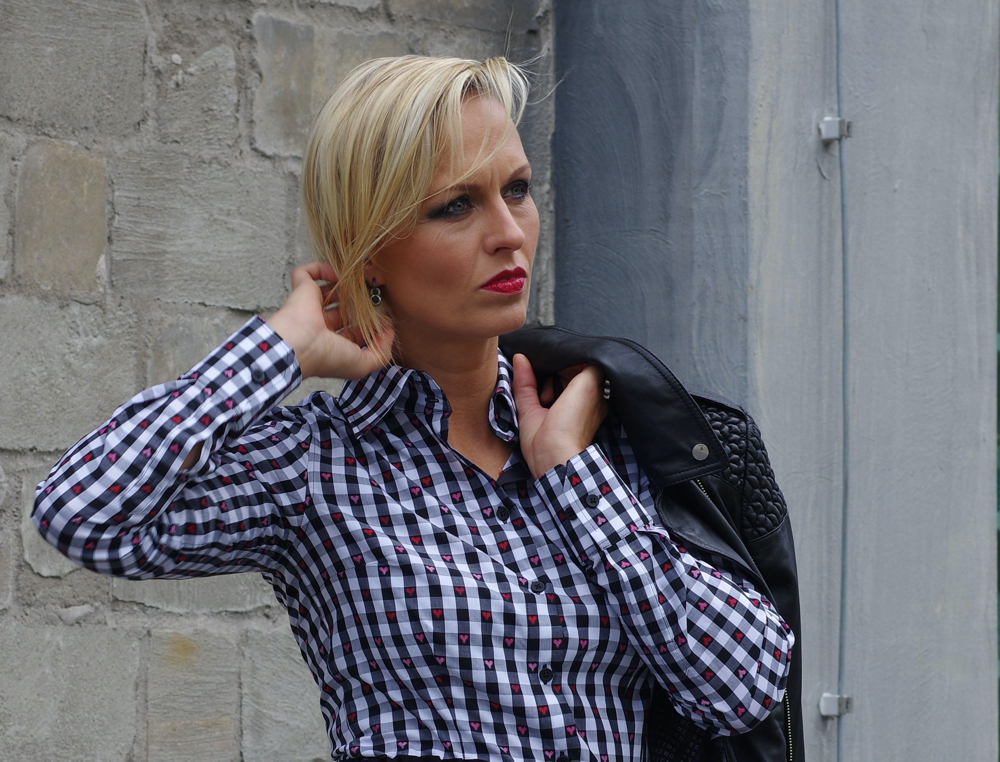 Accessorize
One of the biggest skills of wearing all black is knowing when to add just a hint of color and contrast to break up an outfit. The right shoes, bag, and jewelry will provide the perfect finishing touch to a monochromatic outfit and will give the entire look an added sense of sophistication.
Adding color to your look can be as simple as painting your nails in a pastel shade or adding your favorite accessories. This doesn't have to mean larger than life but is rather about adding a bit of personality. Even if you wear just a classic gold necklace, it can be enough to complete your look. Silver cufflinks on a black shirt can also look fabulously chic.
Wear the Right Makeup
Coordinating makeup to your all-black outfit helps to complete the look. If you want to avoid looking gothic or excessively edgy, keep your makeup toned down. Forget about the dark red lipstick and heavy eye makeup.
When you opt for lighter, softer shades instead it will help to downplay the darkness of your appearance and to balance out your outfit. With black being an elegant color, understated and elusive is always better than loud and colorful. Smokey eyes and nude lipstick go a long way for making sure that your overall look is evened out.